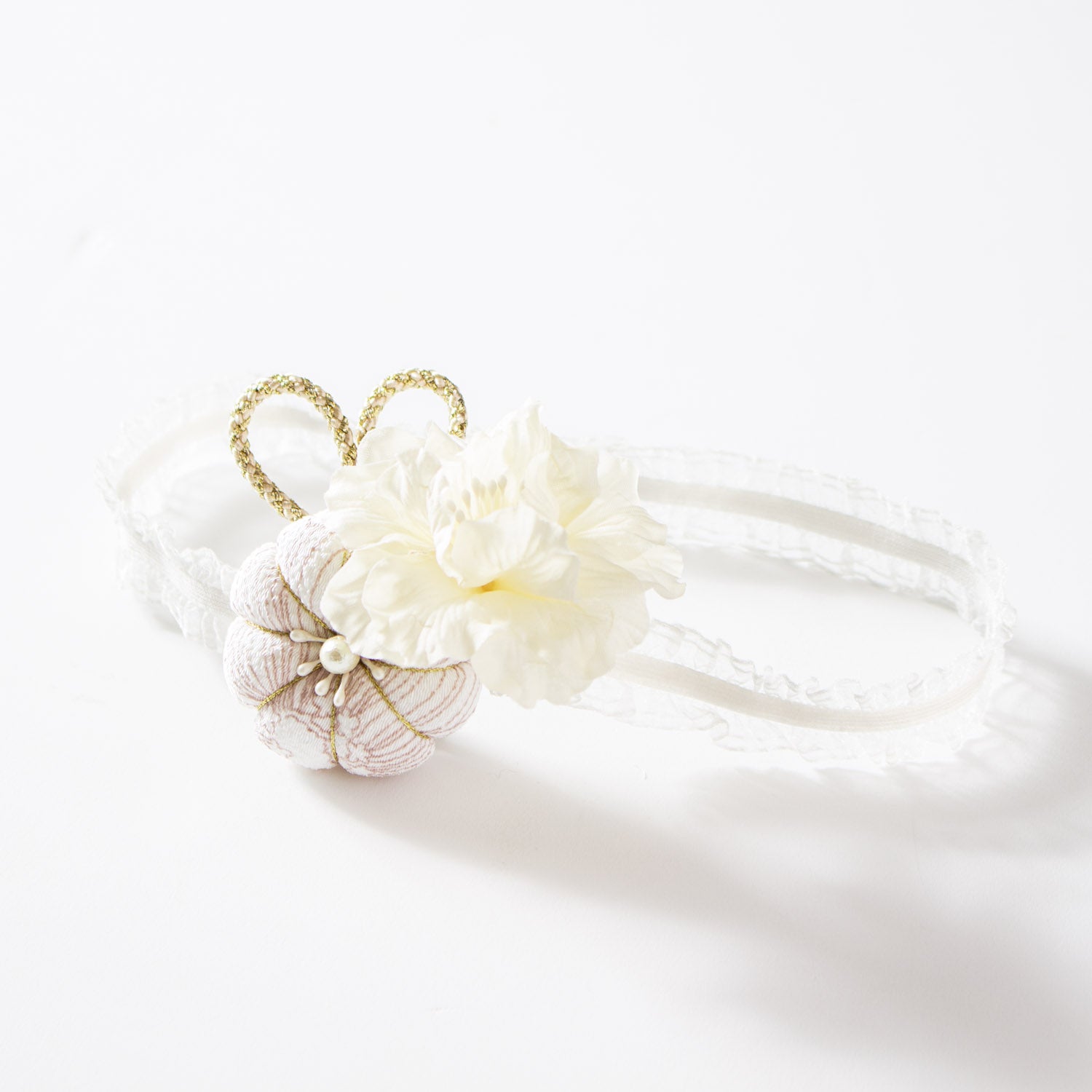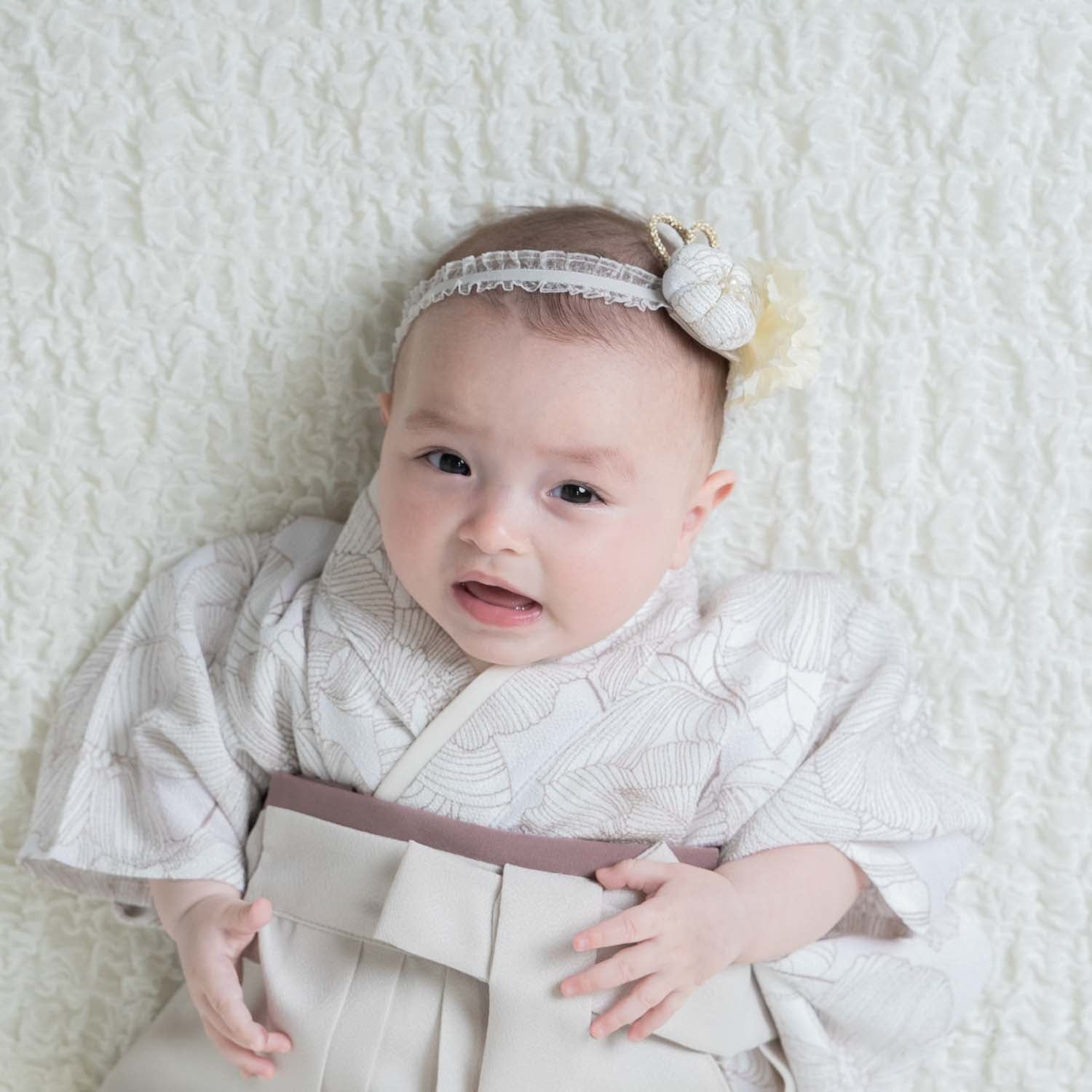 Tsumami work hair band calendula 51011
Description
About pre-orders
A puffy chrysanthemum flower hair band that uses the same textile as " Ren Hakama ".
Chirimen chrysanthemum flowers and ivory colored artificial flowers.
Harmony created by different materials.
Kumihimo decoration that feels Japanese.
The nuanced color makes it a hair ornament that is typical of "tsukihana".
The soft and stretchy hair band can be worn by even young babies without stress.

Each one is carefully handmade in Japan.


Please enjoy the total coordination according to the atmosphere of the hakama.
[Size] Head circumference 41 cm ~
[Hair band width] 1.8cm
[Precautions when handling]
Water-based glue is used for the adhesive part. Please refrain from washing.
Also, the chirimen fabric used for Tsumamizaiku may shrink if it gets wet.
Please be careful not to let children put it in their mouth.

[About product images]
Regarding the color of the product in the posted image, we strive to make it as close to the actual color as possible, but there may be differences in the shooting location, lighting / light conditions, the environment of your PC, smartphone, etc. (monitor, browser, etc.). The appearance of the color may differ slightly from the actual product. Please note.
⚠︎Pre-order items have changed from "Add to cart" to "Pre-order" button.

Pre-order items will take some time to be delivered.

Please be sure to check the estimated shipping date in the product overview before ordering.

In-stock items that have been paid for in the same cart as reserved items will be shipped together with the reserved items.

Requests for a specific delivery date cannot be accepted for pre-ordered items. Please note that even if you select the desired delivery date, it will not be reflected.

* Due to production reasons, there is a possibility that the scheduled product delivery date may be delayed or canceled. In that case, we will promptly inform you by e-mail.
Tsumami work hair band calendula 51011
Types of gift wrapping
Noshi - Noshi -
Personalization is possible.
The type of Noshi is only [Celebration].
Please be sure to enter your name in the "Add order memo / Noshi writing" column in "Cart".
* Only hakama products are available.
*Items other than hakama products cannot be wrapped.
Please check this page for details
Ribbos-Ribbon-
Cannot be personalized
* Only hakama products are available
*Items other than hakama products cannot be wrapped.
Please check this page for details.
About delivery and shipping
postage
Free shipping for purchases over ¥10,000 (tax included).
If it is less than ¥10,000 (tax included), it will cost "Honshu/Shikoku: ¥550", "Hokkaido/Kyushu: ¥660", and "Okinawa: ¥1,100".

Please note that items cannot be added after an order has been placed.
If you wish to add items after placing your order, please contact us by email.
info@tsukihana2020.com
*Be sure to include the "order number" or "orderer name".
Shipping/Delivery
Your order will be shipped within 2 business days.
* It may take time to ship due to moving between warehouses due to product replenishment.
Closed days: Saturdays, Sundays, holidays, summer holidays, year-end and New Year holidays, and closed days determined by the store.
The product will be delivered by Yamato Transport.
Please note that delivery may take some time depending on the region.
Shipping from our shop will be from Kanto.
Please check the detailed delivery days on the Yamato Transport website.